To nurture a happy and successful generation of global citizens, MerryStar Bilingual Kindergarten has strict recruitment criteria and a comprehensive training program to employ certified and dedicated teachers who really love children. MerryStar's teacher team is made up of experienced and trained educators.
To become teachers at MerryStar, candidates must take part in a rigorous recruitment process including application screening, interviewing, professional tests, and teaching skills demonstration in front of our Science Council. After passing these difficult rounds, candidates will go through MerryStar's training program and will be tested and assessed before officially being recruited as teachers.
MerryStar's top priority is to build a balanced working environment where love is spread around. This is a foundation to strengthen our culture of spreading love between Family and School. It also helps to improve the strong relationships of Teachers,Students and Parents. This is the way that MerryStar nurtures loving hearts for children: love themselves, their families and community. To achieve this goal, we focus on establishing positive relationships among our staff based on core values: LOVE (nurturing loving hearts) – HONESTY (think and work honestly) – VALUE (creating value for students, parents and the community).
Requirement of degrees and certificates in MerryStar's teacher recruitment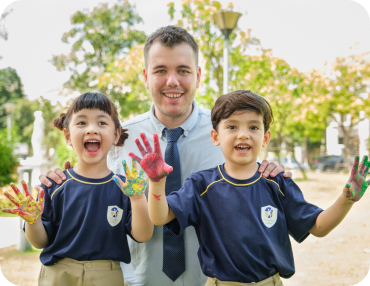 Foreign and Vietnamese English teachers must have one of the two below criteria:
Graduated from college or higher majoring in early childhood pedagogy/preschool pedagogy and have certificates in English teaching for preschool children;
Graduated from college or higher with English-taught majors and have TESOL and CELTA certificates.
Vietnamese teachers must have a college degree or higher in early childhood education and at least two years of experience teaching at kindergartens.
MerryStar's teacher training program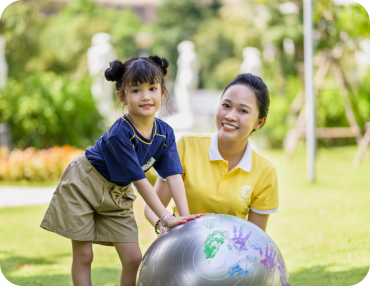 Teachers will be trained by MerryStar Science Council's leading educators and specialists who have decades of experience in educational management and preschool teacher training in Việt Nam and internationally.
Teachers will take part in regular professional training courses to improve the quality of education, teaching ability and knowledge, professional skills and techniques; and to develop teachers themselves. Details are below:
After passing recruitment criteria
Teachers will take part in intensive and comprehensive training programs for one to two months, specializing in MerryStar's educational curriculum, culture and teachers' professional ethics; and early childhood education knowledge and teaching skills.
MerryStar's specialists will evaluate teachers' competence through tests before delivering certificates of training completion.
After being officially recruited
Teachers will apply the knowledge and skills learnt from training courses to their teaching at MerryStar.
Teachers will regularly join training courses and seminars where they can share experiences and initiatives to improve the quality of education.
MerryStar's teacher profile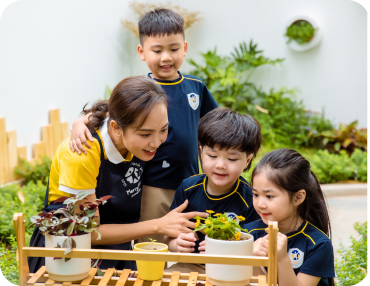 Professional educators;
Rich and extensive knowledge about the development of preschool children;
Passionate and good pedagogical skills;
Good skills for observing, recording and assessing children's progress;
Good application of professional knowledge in teaching activities;
Effectively connecting Families­­ – School – Community.